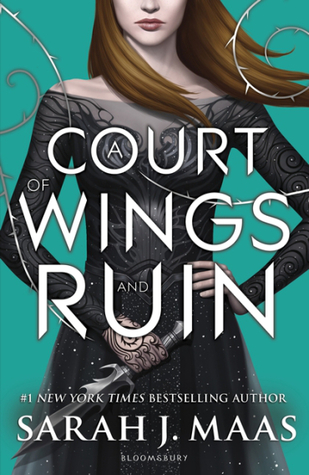 Format:  Hardcover
Pages: 699 pages
Published: 2017
Publisher: Bloomsbury Childrens Books
Genre: Fiction, Young Adult, Fantasy
Synopsis:
Feyre has returned to the Spring Court, determined to gather information on Tamlin's maneuverings and the invading king threatening to bring Prythian to its knees. But to do so she must play a deadly game of deceit—and one slip may spell doom not only for Feyre, but for her world as well. As war bears down upon them all, Feyre must decide who to trust amongst the dazzling and lethal High Lords—and hunt for allies in unexpected places.
I don't know if I was so enamored with the series and failed to see the first two books' flaws and faults but I feel that this was the weakest book of the entire series. I had a very difficult time to get through this one. Unlike the previous two, I neglected to feel that urge to continuously read and "never put it down". I had to encourage myself (and combined with the fact that I didn't want to carry around this heavy book anymore) to try to finish this book and I don't think I should force myself to like a book.
The beginning was a strong start. Feyre's scheming, her thirst for vengeance, and manipulative nature made it an interesting beginning and really allowed me to dive into the story. I believe that would be in for a great ride with this story. However, when we got to quarter through the book, that is where everything was lost. The pacing of the story was off. The story went on for too long. The talk of the war and the strategy dragged on and really pulled down the story. I would pass over them because not only was it difficult to keep track, I was just uninterested. There was no reason for this book to be close to 700 pages.
The twist and turns? Very weak. If you want Tamlin to remain an evil bastard, then keep him an evil bastard. Don't keep going back and forth on the subject. It makes it look you don't know what you are doing and you really don't know your characters. That's why character development in this book was really lacking. Feyre did grow more as a character but not as much as I would have liked her to. The possible reason for this is that there were to many characters. There was so much going on, it was hard for me to keep track. There was no internal struggle of the characters which I love to see. Maas may have thought that the twist and turns would build her characters up but in reality it brought her characters and the story down.
The sex scenes were unnecessary. I feel Maas concentrated more on these scenes than on integral parts of the story. I would groan when another one was coming up and just skipped it over. And there is no reason to reiterate the sexual tension between Feyre and Rhys. There together, there is no reason for there to be tension between them. It is nice to illustrate their close relationship but don't go overboard and let it divert from the story.
This book actually made pay attention to Maas's writing style. Like I said, maybe I was enamoured with her last two books in the series and I never made a note about it. Now, I cannot say I really care for it. It felt like it was all over the place. She creates beautiful fantasy worlds. But the flowing of the language made it difficult to absorb yourself in the story and really capture what is really going on. It was very choppy. It seems like she never really dedicated enough time writing this book, which is understandable since she does writing projects at the same time.
I can go on and on about the flaws but I don't want this review to end up repetitive like this book was. This was an utter disappointment and I feel it could have been a whole lot better if Maas took the time and dedication to fine tune the prose. It missed the opportunity to be a stunning conclusion to a trilogy. Unfortunately, we are not done with this series. It was optioned for three more books of this series, which is additional disappointment. This series will then become another victim of being overdone and make readers be bore with it altogether.
Overall rating: 2 out of 5 stars
Get It At: Amazon |Barnes & Noble|Book Depository | Your local library