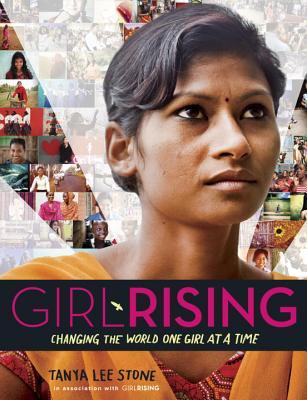 Format:  Hardcover
Pages: 272 pages
Published: February 14, 2017
Publisher: WendyLamb Books
Genre: Nonfiction, Young Adult
Synopsis:
Worldwide, over 62 million girls are not in school.
But one girl with courage is a revolution.
Girl Rising, a global campaign for girls' education, created a film that chronicled the stories of nine girls in the developing world, allowing viewers the opportunity to witness how education can break the cycle of poverty.
Now, award-winning author Tanya Lee Stone uses new research to illuminate the dramatic facts behind the film, focusing both on the girls captured on camera and many others. She examines barriers to education in depth—early child marriage and childbearing, slavery, sexual trafficking, gender discrimination, and poverty—and shows how removing these barriers means not only a better life for girls, but safer, healthier, and more prosperous communities.
You are never grateful for what you have unless you look at in someone's else's point of view. I always appreciated the education I received and how far it but I never knew how much until I read these amazing stories from these incredible girls. Girl Rising, started as a film, depicts amazing young girls from developing countries who continuously confront barriers that prevent them from getting an education. I have been touched and moved by both their perseverance and their stride to overcome these barriers, such as child marriage, slavery, and poverty. I was so proud that these young girls knew that it was their right to receive an education, while some here in the states waste it away. Stone also list great opportunities for other young girls to do their part and "inspire change" onto the world.
If you are a Children's or Teen librarian, like myself, this is a perfect book to suggest to your adolescent audience. It shows them the importance of education and how lucky they are to have it. It irks me that people really don't understand the importance to educate ourselves and this book opened my eyes to what really is going on in the world. Young girls and women still have a long way to go but that doesn't mean the fight is at a lost.
Overall rating: 5 out of 5 stars
Get It At: Amazon |Barnes & Noble|Book Depository | Your local library