Welcome to Friday Debate, a feature on cup of tea with that book, please, where every Friday a question will be posted that tantalize the brain and expands our horizons. For this week's question: 
Yesterday was Black Friday, an annual event after Thanksgiving where businesses lure consumers into their stores with enticing deals and low prices. I use to get up early and try to get a head start on my Christmas shopping. But as the years went by, the greediness and the crowds, mostly the crowds, just started getting to me. Not to be all preachy, but when I saw the extreme lengths people go through to get the so-called "best deal", I started asking myself  "Is all this really worth it?" We have come to a point where we are dismissive of other people's well-being. Just take a look at what happened at a Victoria's Secret in Tennessee:
Then having one day of deals was not enough. To combat with online shopping, stores started opening on Thanksgiving Day, allowing corporate their corporate greed to prevent workers from celebrating the holiday with their families. But blame can be passed around here. If we the consumers weren't so focused on the gift-giving side of Christmas, maybe retail stores would not have such outrageous store hours. Are they meeting our needs or are they fueling their corporate greed? Has the meaning of Thanksgiving been washed away?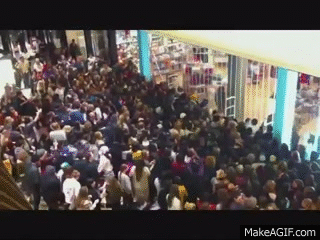 So for this week's Friday Debate, I am asking these two questions:
Please post any comments you have in the section below.