Winter reading is a hobby that I feel gets constantly overlooked.
I feel I do more of my reading during the winter. You don't go out as much during the winter months. The days are shorter, the weather is colder…our natural instinct is to hibernate. And what better way to spend the cold winter nights with a hot cup of tea, a fire, a blanket, and a book with hundred of pages?
Well, don't fret book lovers. Our favorite pastime is a great way to beat away those winter blues. These books will not only make the dreary winter more exciting but give you a chance to start on your reading challenge: 
The Woman in White by Wilkie Collins
Winter should always begin with a good mystery and this is definitely a good one. Dive right into this spooky, suspenseful story and you will have a hard time putting down this epic story.
Murder on the Orient Express by Agatha Christie
Remaining on the mystery track, no winter night is complete with an Agatha Christie story, and Murder on the Orient Express is a definite read. Not only it takes place during winter time, the constant surprises and unexpected turns will have you on the edge of your seat. It is so intriguing, you'll most likely finish this in a night.
Wuthering Heights by Emily Bronte
The gloomy backdrop of this classic story will make you feel right at home. But it is the passionate love story between Catharine and Heathcliff that calls to readers and has them intrigued (and sometimes confused) until the very last page.
The Essex Serpent by Sarah Perry
Travel back to Victorian times with this popular historical novel. Read how two people can be drawn together in such an unusual way, to then be torn apart so abruptly. This is no way your average romantic story.
Sense and Sensibility by Jane Austen
Pride and Prejudice is for the summer. Emma is for the spring. Some say Persuasion is for the winter, but along with the book themes, I feel it works better with autumn. Sense and Sensibility is the perfect book for winter reading. The book starts off on a somber note but then leads to an uplifting change in circumstances. Like winter turning into spring, a perfect book to read while the weather catch up with how you are truly feeling.
The Forgotten Garden by Kate Morton
Morton may use similar themes in all her novels (the protagonist trying to uncover a family and along finding herself in the process) but at least she keeps it interesting, entertaining and leaves you wanting more. You'll definitely have fun discovering the "secret" in the garden.
The Sound of Glass by Karen White
Karen White has a gift of combining great description of scenery and amazing storytelling, all into one, making another winner for Karen White. I have read most of her books and not one of them disappointed me. The Sound of Glass is another one to add to the list. White's realistic storytelling is a lot similar to the writing style of Jojo Moyes so sometimes I consider Karen White as the Southern American version of Jojo Moyes.
Big Little Lies by Liane Moriarty
I could not put this book down! I had to stop myself from reading this in one sitting (which not necessarily a bad thing). After reading Big Little Lies, you'll want to read more of Liane Moriarty's books.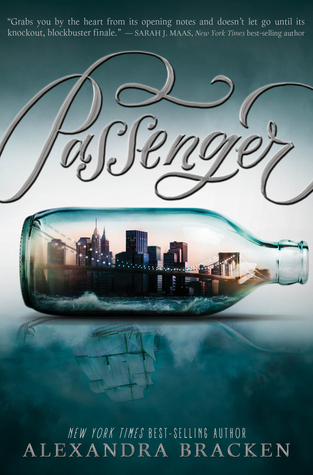 Passenger by Alexandra Bracken
Need a break from the dreary winter? Travel through time with Alexandra Bracken's bestseller Passenger. This book is the perfect example of how reading takes you around the world, minus the cost of an expensive plane ticket.
And Then There Were None by Agatha Christie
Winter reading is never complete without a thriller keeping you up at night. And you can't go wrong with Christie's popular classic, And Then There Were None. You might want to read this one with more lights on.
Non-fiction Books
Since you are cooped up in the house, now is the perfect time to learn something new. Non-fiction books provide the best opportunity to do so. It is important to find a subject that you are interested in, otherwise, there is no point in reading them. Here are some suggestions to get you started:
Victoria: The Queen: An Intimate Biography of the Woman Who Ruled an Empire by Julia Baird
Quiet: The Power of Introverts in a World That Can't Stop Talking by Susan Cain
Jane Austen at Home by Lucy Worsley
The Real Jane Austen: A Life in Small Things by Paula Byrne
The Social Life of Books: Reading Together in the Eighteenth-Century Home by Abigail Williams
What do you like reading during the winter season?