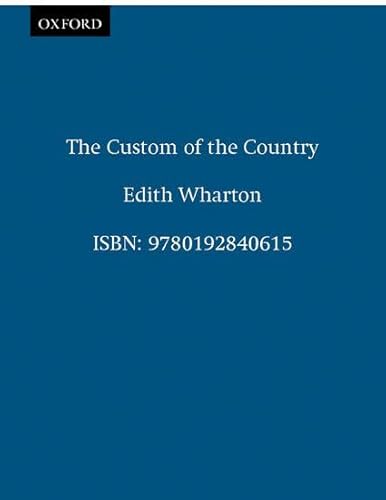 Format:  Paperback
Pages: 410 pages
Published: 1913
Publisher: Oxford University Press
Genre: Fiction & Literature, Classics
Synopsis: 
Edith Wharton's satiric anatomy of American society in the first decade of the twentieth century appeared in 1913; it both appalled and fascinated its first reviewers, and established her as a major novelist. The Saturday Review wrote that she had 'assembled as many detestable people as it is possible to pack between the covers of a six-hundred page novel', but concluded that the book was 'brilliantly written', and 'should be read as a parable'. It follows the career of Undine Spragg, recently arrived in New York from the Midwest and determined to conquer high society. Glamorous, selfish, mercenary, and manipulative, her principal assets are her striking beauty, her tenacity, and her father's money. With her sights set on an advantageous marriage, Undine pursues her schemes in a world of shifting values, where triumph is swiftly followed by disillusion. Wharton was re-creating an environment she knew intimately, and Undine's education for social success is chronicled in meticulous detail. The novel superbly captures the world of post-Civil War America, as ruthless in its social ambitions as in its business and politics.
The Custom of the Country was my first introduction to Edith Wharton and her writing style. People have always told me she is a great writer and I don't know how I managed to evade her for so long, being an English major. I absolutely adored this book. Wharton's wit and humor had me laughing throughout the entire read. It definitely is a satire, however, the portrayal of this early 20th century American society feels so real you have a hard time not seeing the relevant connections that we, the readers, can make to real life.
Undine Spragg is one of the most despicable characters you will ever meet. Everyone of Undine's action will have you repulsed and disgusted with her personality. Unfortunately, that makes her one of the most realistic characters you will ever encounter. Undine knows what she wants, and yes takes questionable actions to meet those motives, but she persist and endeavors and you really have to admire that in a person. Undine's personality embodies main idea of this time period: the focus of American materialism with limited education. That is particularly one of the reasons why I loved reading this book. The themes and ideas that are exhibited in this novel are elements that still could be applied today's world. It was like Undine was using society's flaws to her advantage. High society never really cared for higher education or refinement where it really mattered. So, Undine used the system to meet her needs. You really have to give her props for that.
Another reason for loving this book is the connection I could not help making between this and Austen's other works. Undine reminds me of Lady Susan. Lady Susan was a manipulative character and also a bad mother but not as bad as Undine. She could actually teach Lady Susan a thing or to. Wharton's writing is not at all like Austen's but her storytelling and her wide range of unsympathetic characters make it a very close second. A naive but ambitious young heroine who has expectations in her life? This writing formula will pull in any Austen lover.
Entertaining, humorous, shocking, and thought-provoking…Edith Wharton's The Custom of the Country is one book that will have you entertained for hours. If you liked books like The Great Gatsby or Lady Susan, you will enjoy this book. Undine Spragg may be deplorable but you really can't condemn her for her ambitions. As you will see when you this book, society made it that way. Another fantastic read to add to my list.
Overall rating: 5 out of 5 stars
Get It At: Amazon |Barnes & Noble|Book Depository | Your local library